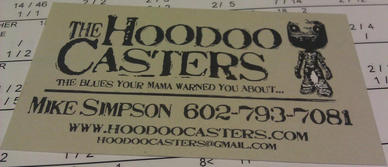 Business card and phone number.

We are currently booking for 2018 and 2019
We are a 5 piece band 4 vocals, 2 guitars, Harmonica, Bass and Drums.

Please consider booking The Hoodoo Casters band at your club or event. The Hoodoo Casters band play Chicago Blues, Boogie, Swamp, Mississippi Hill Country, some Americana and our own originals. We cover songs by Muddy Waters, Creedence, Jimmy Reed, Johnny Cash, Howlin' Wolf, Lynard Skynard, Elmore James, ZZ Top, The Band, Grand Funk and more. We only take two breaks in a four hour evening and we have a free t-shirt drawing at one of the breaks. If needed we also provide four 11x17 color posters a couple of weeks before the date. Please check our website for our current schedule.




---